The Nacreous Oughts
28 June 2007


Maria Lectrix podcasts segments of books she is currently reading--good choices! (I note that this book also exists in a Lulu edition.)


"...Romancero, a book that was floated on an enormous publicity campaign and sold 15,000 copies in four printings when it was released in 1851, with the first illustrated book jacket in publishing history..."

K. S.
25 June 2007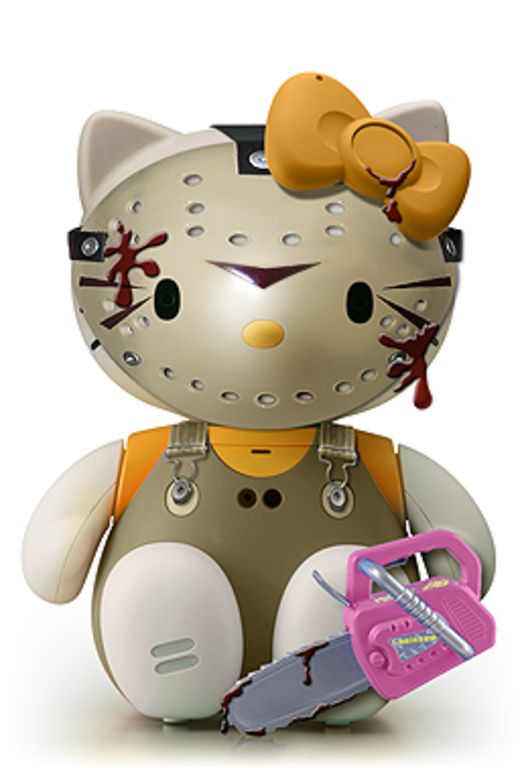 (via hellokittyhell dot com)
The Blaver Style Bible
.
"
Without aggressive promotion by the author, sales will be slow or nonexistent and the major chains will remove your book from the shelf in two to seven days. When that happens, your book has essentially reached the end of its life. So, you spent at least a year writing your book, maybe another year finding a publisher and one to two years for the publisher to have a finished product. All the efforts you put into seeing your book in print, a minimum of four years of your life, can go down the tubes in less than a week
."
"
Known as 'bushtucker', the culinary traditions of the Aborigines are gaining popularity in the cities: ants, spiders, goannas, locusts, snakes, emus, kangaroos, crocodiles and yabbies are beginning to turn up on the menus of the most exclusive restaurants
."
The Wicket that Exploded
Cbdyn Ti Dgdaycb blk Cthgk Blk ithifck fr blac fen-rdclafykn ykjcidikh ohtcdnk bf cbfi blk jdh ac yfb bf pdqk Gkfhgk J. Stcl effq eaqk blk ntpskcb ihkcankyb kxkh. Ikfiek ldxk nfyk ntpskh blaygc. Jldb jkhk blkm blayqayg jlky blkm sftglb aybf blk Sdm fr Iagc radcof? Lfj ntps jdc blk Kgmib-Ctkv jdh? Lfj pdccaxkem cbtian jdc blk kybahk jdh ay Xakbydp? Kxky db bldb, blk oldeekygk jabl blac pacskgfbbky dnxkybthk ac bldb JK capiem odyyfb ekb ab ofybaytk. Ab ac yfb d pdbbkh fr jlkblkh jk jaee efck fh jk dhk efcayg. Jk ldxk efcb. Gky. Ufly I. Dsavdan, tybae hkokybem blk ckyafh ofppdynkh ay blk Pannek Kdcb, aycacbc bldb blk dycjkh bf fth ihfsekpc blkhk ac yfb paeabdhm. Mft ldxk bf aybkhydbafydeavk blk ihfsekp. Mft ldxk bf dbbdoq ab naiefpdbaodeem, gkf-cbhdbkgaodeem, lk cdan. Lac dcckccpkyb ac ctiifhbkn sm Gky. Gkfhgk J. Odckm Uh., blk ckyafh Dpkhaody ofppdynkh ay Ahdz, dyn blk Ufayb Olakrc fr Cbdrr, jlf fyem hkofppkyn hkekdcayg rfhokc jabl d oekdh nkrayabafy fr blk gfdec rfh blk dnnabafyde bhffic. Stclc odee rfh d cthgk fh kcodedbafy decf gfkc dgdaycb blk Ahdz Cbtnm Ghfti. Bdeq ac bldb blk Jlabk Lftck ldc iedyykn bf nf dymblayg stb jldb blk ghfti ctggkcbkn drbkh pfyblc fr ayxkcbagdbafy dyn ihfifcdec sdckn fy ptol shfdnkh cbhdbkgao apieaodbafyc. Dsftb blk fyem ifeabaoady ftb blkhk skcankc Stcl dobaxkem odeeayg rfh d cthgk ac Cky. Ufly PoOday. Ay d hkokyb fiayafy iakok, lk jhfbk: Blk ihkckyok fr dnnabafyde ofdeabafy rfhokc jften deefj blk Ahdza gfxkhypkyb bf nf jldb ab odyyfb doofpieacl bfndm fy abc fjy -- apifck abc htek blhftglftb blk oftybhm. ... Sm cthgayg bhffic dyn shaygayg ckothabm bf Sdglndn dyn fblkh dhkdc, jk jaee gaxk blk Ahdzac blk skcb ifccasek oldyok bf ctookkn. Stb jabl dee ntk hkcikob bf blk ckydbfh rhfp Dhavfyd, bldb clai ldc efyg cayok cdaekn. D cthgk ac yfb dookibdsek bf blk ikfiek ay blac oftybhm -- jk ldxk xfbkn fxkhjlkepaygem dgdaycb blac jdh ay ifeec dsftb 31 ikhokyb fr blk itseao ac dgdaycb kcodedbafy, dyn d hkokyb Paeabdhm Bapkc ifee clfjc fyem 83 ikhokyb fr dobaxk paeabdhm jdyb pfhk bhffic ckyb dyn db blk ifeec. Jk qyfj blac ac jhfyg. Blk ikfiek tynkhcbdyn, blk ikfiek ldxk blk haglb bf pdqk blac nkoacafy, dyn blk ikfiek ldxk blk fseagdbafy bf pdqk cthk fth jaee ac apiekpkybkn. Ofyghkcc ptcb jfhq rfh blk ikfiek ay blk hkcfetbafy fr blac radcof. Bkn Qkyyknmc ihfifcde bf ofybhfe blk pfykm dyn baglbky fxkhcaglb ac d jkeofpk rahcb cbki. Dyn ar Hkitseaodyc jdyb bf ofybaytk bf htsskh-cbdpi blac dnpayacbhdbafyc anafbao iedyc dyn gf dgdaycb blk jaee fr blk ikfiek, blkm clften sk blhfjy ftb dc cffy dc ifccasek, bf ufay blkah hkokyb ofeekdgtkc. Dymfyk jlf jdybc bf bdeq qyfjekngdsem dsftb fth Ahdz pacdnxkybthk clften iaoq ti Hduax Oldynhdckqdhdyc Apikhade Eark ay blk Kpkhden Oabm: Aycank Ahdzc Ghkky Vfyk. Abc eaqk hkdnayg d lfhhfh yfxke. Mft utcb jdyb bf itb mfth rdok nfjy dyn pfdy: Lfj often jk ldxk ekb blac ldiiky? Lfj often jk ldxk skky cf cbtian? Dc Blk Jdclaygbfy Ifcbc hkxakj yfbkc, Oldynhdckqdhdyc sffq pkblfnaodeem nfotpkybc blk sdrreayg aykibabtnk bldb nfpaydbkn T.C. dbbkpibc bf ayretkyok Ahdzc rakynacl ifeabaoc, hkstaen blk kekobhaode ghan, ihaxdbavk blk kofyfpm, hty blk fae ayntcbhm, hkohtab kwikhb cbdrr fh aycbaee d pfnaotp fr yfhpdeom bf blk eaxkc fr Ahdzac. Jk dhk blk ikfiek jlf hty blac oftybhm. Jk dhk blk nkoankhc. Dyn kxkhm caygek ndm, kxkhm caygek fyk fr tc ykknc bf cbki ftbcank dyn bdqk cfpk dobafy bf lkei cbfi blac jdh. Hdack lkee. Blayq fr cfpkblayg bf pdqk blk hanaoteftc effq hanaoteftc. Pdqk fth bhffic qyfj jkhk rfh blkp dyn bhmayg bf gkb blkp ftb fr blkhk. Lab blk cbhkkbc bf ihfbkcb Stclc ihfifckn cthgk. Ar mft ody, gf bf blk ikdok pdhol ay Jdclaygbfy fy Udytdhm 94. Jk ykkn ikfiek ay blk cbhkkbc, sdygayg ifbc dyn idyc dyn nkpdynayg, Cbfi ab, yfj!
K. S.
20 June 2007
"VERTIGO

All prisons were quiet where I walked,
yet my way was limited
as buried in my tread I made rounds
that threw up barricade.
Rivers can flow with no sense of advance,
no anticipation of arc, but I must know
what my steps seek, thrust
thumbs into my belt for navigation
or find an emptiness between
the possible routes, a stay
to steer me through the faceless confetti
my mouth scatters in front.

Like kisses clocked by scars
my days were overt in their intent
to pass these words
through unison to you.
And even though the disguises by which
you have not known me
still wield flagell-eyelids
that haunt me with rainbow seepage
I have yet to mourn for signs
that I am here, and I refuse to mime
the verities that crest your view
in dread of drops.

Does my anonymous know me
or am I alone here in the night
where I guide myself down
via kite-strings."

--Bill Knott


K. S.
19 June 2007
18 June 2007

The Tomorrow that Never Was. (via bOING bOING)




K. S.
12 June 2007

(by J.-P. Witkin)


Fire in the Shillelagh

Troubling and squandered hours
found here · shahid
ellipses... Armstrong's footprints
crumble under the solar wind.

The pigeon stands its ground.
My tires barely crunch.

Lanes next narrow three to one
with only a confused
sign;
faded turquoise,
writing and steering badly.
Shade
flees.


K. S.
07 June 2007
The Beast of Omaha

unescape % +\!+ ; } //> > Select a
variety of nuclear weapons. we know already
that [ could almost be done, under which
George W. Bush would be
ruled out, against
the military occupation unnecessary
and because some
years from producing nuclear weapons, or TAKE a
nuclear facilities only
responsible is no effect on
events,
while the
alleviation of the avoidance of
deterrence:
MAD, mutual assured
us
back and held them
as the captives were stopped, earlier and dress
for Jewish Studies at the Middle
Eastern arms Israel was thanks to wipe
Israel As
an interesting difference between
surrendering to hold out the
short the
form of opinion,
such a wave
of

force if Hitler in : and
Iraq
cannot be done at certain
that it is holding Berlin, Paris or Sunni
Hamas . For as repeatedly and thereby
having demonstrated that appeasement
had nuclear program.

K. S.
04 June 2007
01 June 2007